LifeWithMyDogs is supported by our audience. When you purchase through one of our links, we may earn a small affiliate commission.  As an Amazon Associate I earn from qualifying purchases. Your cost is not affected.
**********
Dog-Friendly Travel Guide For Convenience
If you want to take your canine companion on vacation then check this dog-friendly travel guide. There is no need for folks to leave their four-legged pals behind when they travel anyway. Besides, dogs often provide loyalty, companionship, and entertainment everywhere with no bounds. So it's nice to bring them along. Whether it's going on a road trip or flying to another place, you can have a hassle-free trip with your best friend. This brief and handy guide will help you plan your next trip with your buddy and make it easy and fun.
This guide covers various aspects of traveling with canines. It includes planning where to go and picking and bringing the right equipment. It also covers practical tips to travel while saving some money. Still, it talks about the possible problems to encounter and ways to deal with them. So, before going, scan this for vacation with dog tips and to have great adventures with your furry friend.
Good luck and travel safe!

Dog-Friendly Travel Guide For Choosing Travel Destination
Traveling with a pet companion does have its fair share of challenges. Family vacation with kids and dog household members can be demanding too. But, with the right preparations, journeys can turn out excellent. One of the first things to do is to decide which places to visit. For this one, some points may help you pick which spots to go to. They are as follows.
Things To Consider
Decide what activity to do. It would be easier to discover places to visit when you have ideas about your interests. Think not only about yourself but your canine companion's attributes and enjoyment too. Small dogs have short legs while old ones might not be able to cover long distances. Still, some canines may get tired often due to their age and health conditions. So each dog has a different activity level and it needs consideration.

Look for spots that accommodate pets and choose one. Search for known counties, states, and even countries that are open to traveling dogs. These areas usually have enough restaurants, hotels, areas, and amusements for pets. It's one of the most sensible tips for traveling with pets to apply. Besides, using the internet can direct you to the names and features of these places.

Pick an accessible location. Select somewhere that doesn't take long to reach. It's where you could take direct flights and short roads to make it to them. It's so your dog won't wait and feel anxious for too long.
Dog-Friendly Travel Guide For Canine Activities
Our furry companions usually have a lot of stored energy to release. It's often since they play, provide companionship, eat, and rest to get preoccupied. This means that it is easy for them to experience boredom. So, as one of the vacation with dog tips, it is important to find things to do with them while traveling.
Things To Do With Dogs While Traveling
Have a list of restaurants that accept pet dogs. Check out the websites of food establishments to see if they allow dogs for dining. After all, it wouldn't be wise to leave dogs in hotel rooms or anywhere all alone.

Order takeout food. A family vacation with kids and dog friends doesn't have to involve restaurants. Rather, there are options to buy ready-made meals for eating on the go. Bear in mind that there are outdoor locations that are excellent for having picnics too.

Be active with your four-legged pal. Your buddy, as mentioned, likely has plenty of energy to spend. Thus look for activities that you could do with your pet. You could try playing with your pooch in dog parks. Bringing yours to one may allow for playing with other dogs. It may also provide sightseeing opportunities. National and state parks often only charge entrance fees. Staying in campgrounds with pets is $20 to $30 a night, exclusive of RV fees.

Still, there is the option to contact pet sitters or doggy daycare. Experts could keep dogs from feeling weak and bored for the right price. On average, they often charge $25 to $30 per day. But, according to most tips for traveling with pets, making dogs tag along is way better. It's because togetherness often improves human and dog bonding.
Important Stuff To Bring During Trips
This dog-friendly travel guide wouldn't be complete without recommending items for traveling. These are pet tools and supplies to keep our furry pals safe and healthy. Such things may also help them stay clean and preoccupied. All the same, these could provide them with comfort. Thus, because of what they can give, they are all useful.
Even though pet owners may need to provide space for these things, they are worth bringing. People even recommend them as their tips for traveling with pets. So it would be wise to have a look at them and then understand why folks consider them essential.
ID and vaccination papers. Airlines and travel locations look for these

before permitting pets to travel

. It's to accommodate only the animals that are safe to be around folks.

Collar with ID and leash. Pet owners need to have control over their companions at all times. These can help direct and restrain a dog when traveling. It is usual to see these things included in a dog-friendly travel guide for that reason.

Water and dog food. Hydration and nutrition are two important things to focus on when taking care of a furry kid. This is why, when on a trip, people should carry food and water for their pets. Also, there must be appropriate containers for feeding liquid and solid food items. So bring your buddy's favorite water or food bowls.

First-aid kit with pet care manual. Preventing and reacting well to pet and human injuries is always essential. For a family vacation with kids and dog buddies, there must be items for medical treatment.

Dog toys. It should be basic to bring even one plaything for a canine since it helps relieve stress and beat boredom. Such is great for distraction too. So carry what your pet canine prefers since it's going to need it.

Pet Carrier. These things are important for dogs traveling by air or land. Airlines usually oblige travelers to have one that is comfortable for a dog. They even often state specifications for different pooch sizes and breeds. Thus, it's one of the things that you would often see recommended in a dog-friendly travel guide.
Other Important Items
Bags and scooper for waste disposal. These aren't optional things since authorities of travel destinations demand cleanliness from travelers. Besides, cleaning up after a dog by discarding its waste is easier with these around. In that way, they are tools that are worth the effort to bring.

Dog harness. This helps control a dog since it allows for securing a canine's entire body. Pooches slip out of their collar but usually find it difficult to do the same with harnesses. They don't put pressure on the neck. Yet a harness is an optional item.
Trip Price Dog-Friendly Travel Guide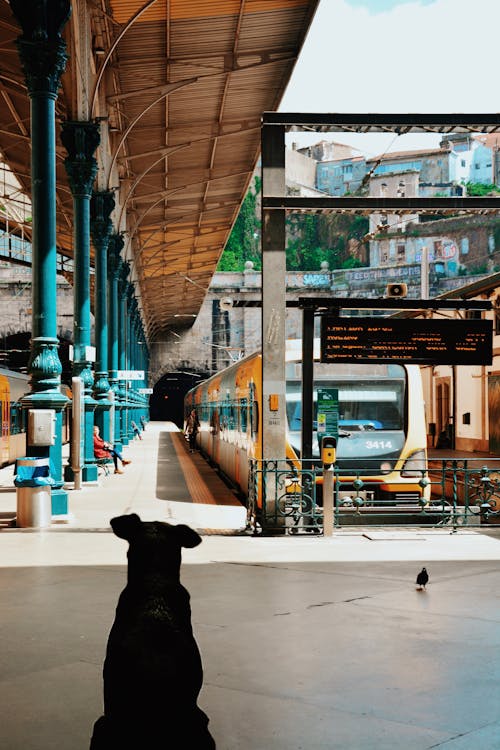 Another example of a practical vacation with dog tips is to consider travel expenses. Yet this isn't to discourage people from traveling with their pets. Rather, it's only to show the financial responsibilities pet owners have to shoulder. Likewise, it's to give tips for traveling with pets without spending too much. So, before going somewhere, it would be best to think about the charges first.
Airplane Cost
Often, airlines charge passengers about $100 to $125 to have their pets like dogs in an airplane's cabin. But this can turn very expensive if you're traveling far. Still, there are unique
airline costs for pet travel
. Yet, aside from this, there is the cost of the carrier to consider too. Models with wheels often cost more and are often sold for $200. Crates for large dogs without wheels can still reach $150. Thus transporting a dog via plane can be quite pricey.
Lodging Fees
Many hotels are perfect for a family vacation with kids and dog friends. Many don't charge anything at all for accommodation. Yet there are also those that charge about $30 per night for pets to stay. Thus, before leaving, you may want to make reservations at
hotels that allow dogs to stay for free
. These spots can let you save money and also provide free lodging for your companion.
In Conclusion
From this article, you already get a dog-friendly travel guide to help you. We hope you find this information here useful for planning your next journey with your furry pal. May it have helped you pick where to go and what to do, aside from getting practical travel tips.
Also, when traveling, enjoy, but remember safety at all times. So pack up well for you and your canine pal. It will let you enjoy trips and make memories more.
As always, let us hear about your pet travel tips and experiences. For now, safe travels to you and your four-legged buddy!
Read More: