LifeWithMyDogs is supported by our audience. When you purchase through one of our links, we may earn a small affiliate commission.  As an Amazon Associate I earn from qualifying purchases. Your cost is not affected.
**********
Take your dog camping because canines make excellent companions for that. Pooches are family and perfect partners for outdoor adventures. They are often thrilled to be there and eager for hikes and games. Also, they provide light-hearted moments to make things better and more interesting. So it's obvious why pet parents take their furry kids on camping trips.
If you love spending time outdoors then bring your four-legged pal along with you. It will give exciting new adventures and memories to cherish for a lifetime. But before you head out on your next trip, there are a few things that you may want to keep in mind first. Thus preparations are necessary.
In this post are some tips and ideas to have fun and safe camping trips together with our furry friends.

Places To Take Your Dog Camping In The US
There are many spots in America for dog-friendly family vacations. The federal and state governments have national and state parks to visit. These recreational grounds are also for citizens and even foreigners with pet companions. In this way, the US is a great place to travel to when going camping with a dog.
Besides, what's great about the said parks in America is that they are reserves with many features. Not only do they have trails to explore but also beaches for swimming. They even contain a variety of geological structures, wildlife, and ecological habitats. Thus there is plenty to get when visiting them.

Acadia National Park For The Best Dog-Friendly Vacations
You can take your dog camping in this park since it permits furry companions to visit. It's only that authorities impose specific restrictions when traveling with pets. One of the rules to follow is to always have a dog on a leash that is no longer than 6 feet long. That is for protecting park resources and pet safety. Still, the park itself is excellent for dog camping because it has hike trails and sights to see.
The park has various entrance fee options. The cheapest would be $15 per person. People with private vehicles need to pay $55. Online reservations are necessary before trips to guarantee accommodation. Inside, Blackwoods, Seawall, Schoodic, and Duck Harbor campgrounds with facilities that are accessible. They are for daytime camping. Plus, the place comes with 150 miles of hiking trails. So pet owners and their furry companions can enjoy so many things once in the park.
Great Sand Dunes For Camping With A Dog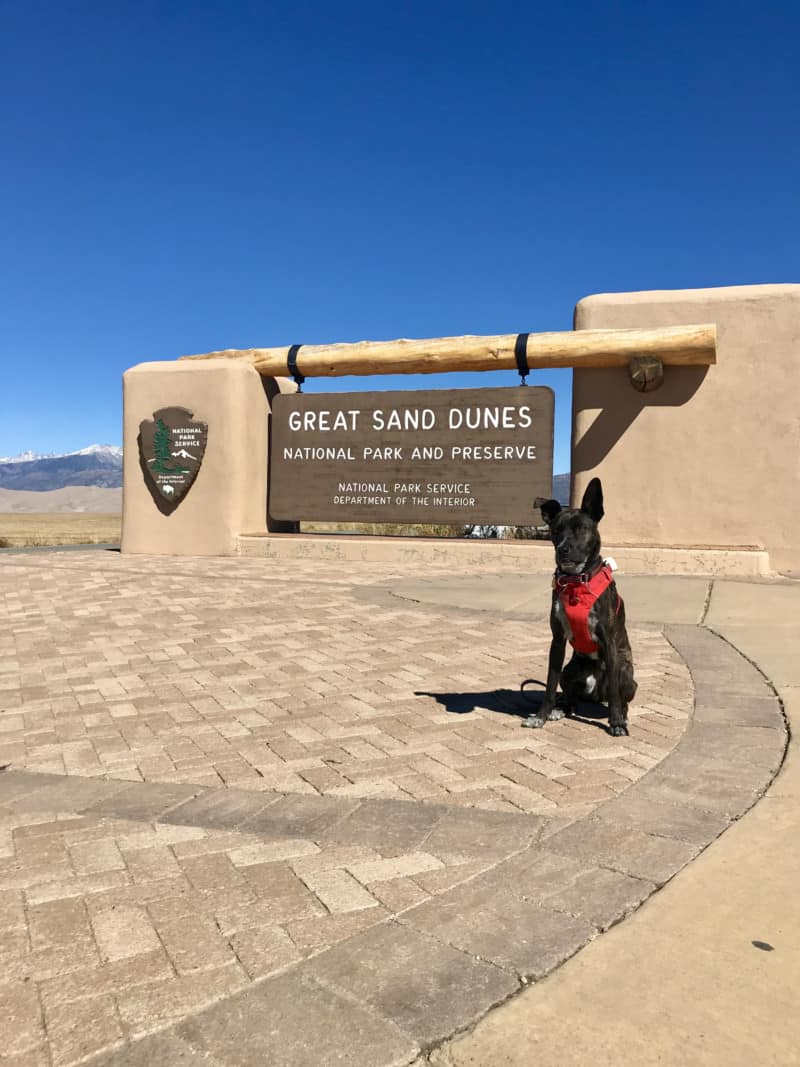 This is a national park that is also ideal for people's dog-friendly family vacations. This recreational preserve permits guests to do camping and other activities. It's great for pet owners and dogs who are athletic and adventurous due to the scenic views and trails to take. Dogs can explore the open areas of the Mosca Pass and Dunes Overlook trails. They can also walk the grounds of the Piñon Flats Campground and Medano Pass Primitive Road. But they are not allowed on the Sand Ramp trail and backpacking campsites. So pet owners with their buddies won't run out of things to do in this reserve.
When you take your dog camping on this site, bring enough water for their pet hydration. Areas of the park reach 150 degrees Fahrenheit or 65 degrees Celcius. Since it gets so hot, dogs could suffer heat exhaustion. Plus, make sure that they don't step on the sand too because its temperature may burn their paws. Yet visitors can go to this place during winter when it's cold too. It's only that they also need to keep their pets warm during the camping trip.
Basic fees for cars to enter this reserve is $25 while it costs $45 for an annual pass. Yet visiting this spot is worth it for dog hiking and exploration plus photography. It's also in this part of Colorado where the tallest dunes in North America are.
Take Your Dog Camping In New York
Two excellent spots for the best dog-friendly vacations are in New York. The campgrounds are in Saranac Lake and Wilmington which charge $18 and $22 a night. Both areas permit travelers with their canine companions to stay there for a while. Also, there are hiking trails to smell the fresh air, see the local wildlife, and unwind. There is the Saranac Lakes Wild Forest for walking and doing a bit of swimming. The Wilmington Wild Forest offers a wilderness experience and touring. Thus it never gets boring for people with their loyal dogs tagging along.
For pet owners, Saranac Lakes allow for boating, fishing, canoeing, and kayaking experiences. Nearby villages like Lake Placid offer shopping locations, restaurants, and gift shops too. Wilmington Notch has 54 campsites with toilets, showers, picnic tables, and other amenities. Both spots are great for dogs to stroll since they come with conveniences. Plus the pathways and geological formations allow for nature trips dogs may enjoy.
Safety When You Take Your Dog Camping
Dog-friendly family vacations become enjoyable with readiness. Pet owners and their pet companions get to do things without worry and issues with planning. After all, when everything is set, things are likely to stay organized. This means having plans on what to do and bring. Such things also make it possible to avoid troubles associated with traveling. So, before heading out, dog owners must think of these.
Here are some dog-friendly vacation ideas for safety to consider before leaving for a trip.

Take Your Dog Camping But Plan Activities
Camping with a dog involves more than bringing one somewhere for enjoyment. It requires thorough research and planning. Take note that not all locations permit dogs to enter and stay for long. Also, some spots are best for pooches because of their spaciousness and things to see. Plus, you also have your and your dog's interests, capabilities, and limits to consider. Thus making decisions ahead is very important.
Visit a veterinarian before leaving to have your furry best friend examined. In doing so, you will know what it needs before you take your dog camping. After that, have a look at different dog-friendly vacation ideas. Part of them is searching for activities to do and places to visit. At least, with them, you could discover the best ones to suit you and your four-legged friend.

Check Travel Destination Regulations and Guidelines
Before having one of your dog-friendly family vacations, check the rules to follow. Campsites and other recreational areas often have strict orders for guests to follow. Familiarize yourself with these things to avoid getting in trouble with the authorities. Also, in knowing them, you and your dog will have better chances of enjoying places and activities.
Often, reading rules on camping with a dog can be best for your pet. In doing so, you can put your pet where it could be safe at all times. Leaving canines to do as they please may sound tempting but we should avoid this. After all, an accident could befall them when left on their own. Thus it pays to read the rules of places when traveling. Know the limits of your reach and the activities that you could enjoy. In that way, you'll have peace of mind when you take your dog camping.

Have Essential Documents And Other Items For Your Canine
Dog-friendly family vacations must have these things. They are important for pet health, enjoyment, and control. Take note that camping with a dog means taking care of it elsewhere from home. So it is important to bring along some of the things to care for it. Examples of these are water, treats, pet food, bowls, and toys. But, of course, the collar, leash, and pet ID are some of the most important things to carry. They are to identify and control a dog at all times.
Bringing a first aid kit is one of the dog-friendly vacation ideas people might want to consider too. Bear in mind that unforeseen troubles may happen during trips. Thus it would be wise to have a couple of medical supplies to address these issues. For this one, have the kind that could take care of injuries of animals and humans.

In Conclusion
Take your dog camping since it can give a great experience. Yet it is vital to do some research before visiting the trails. State and national parks are often the locations for the best dog-friendly vacations. They provide enough room to roam and accommodate canines than private campgrounds. Thus, plan ahead for a great trip.
To be on the safe side, establish activities, and read travel rules. Also, bring important items and supplies. That's so you could prepare for issues and feel at ease during your camping trip with your dog. Yet, instead of always focusing on these, take time to enjoy them. It's not every day that you get to take your dog camping.
Have you gone camping with your furry friend before? Let us know.


Read More